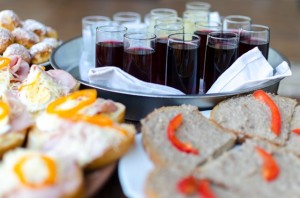 The human mind craves novelty and spontaneity, so it's always a good idea to shake things up with a new theme or unexpected twist when designing your nonprofit's fundraisers. Stumped for ideas? Consider putting your nonprofit's unique spin on one or more of the following suggestions for your next event!
Everyone Deserves to Be Pampered!
Consider hosting your next fundraiser at a local spa. You could also set-up stations on-site at your NFP's offices if you have the room. Events like this work best when you can offer a range of personal services, with a percentage of the proceeds going to your charity.
Treat your supporters to new hairstyles and a facial, have an expert apply their make-up or allow them to relax with an in-chair message. Offer light, healthy refreshments to your participants as they progress through the list of activities.
Wrap things up with a professional manicure or pedicure and have a photographer on hand to present them with glam photos of their new look!
Host a Movie Night
Documentaries have become increasingly popular in recent times. If there is one that relates to your mission host a film screening for your supporters, and charge for refreshments, with a percentage of the purchases going to your cause!
Eating Challenges
Most of us love to eat. Instead of hosting a traditional bake-sell, why not liven things up by introducing a competitive element? Eating challenges are a fun way to raise awareness about your group, along with raising funds. Charge an entry fee and split the proceeds with the winner.
For example, when the temperatures are soaring, you might consider an icy pole or watermelon eating challenge. Summertime is also a good time for challenges that involve food items that are popular at picnics, such as hot dogs or burgers!
Choose a Specific Era, or a Fun Theme for Your Event
Even adults enjoy playing dress-up, which is why galas, balls, and costume parties remain popular fundraising events. Add some additional excitement and frivolity to your fundraiser by tying your event to a specific era, such as the roaring 20s or the pop culture era of the sixties.
You could also choose a different theme that relates to the past, such as having participants come as their favourite figures from history. Why not consider something more unique and offbeat, such as hosting a party where your supporters don their superhero costumes!
Go On a Treasure Hunt or Solve a Mystery
Present supporters with a list of items that would be difficult, but not impossible, to find on short notice. Have them bring all of the items back to a central location by a specific time to complete a scavenger hunt. The participants pay an entry fee, with the proceeds going to your cause.
You might also partner with a local restaurant, and drama club to present a mystery-themed dinner and a show, with the proceeds going to your charity. Events like this work best when the audience has the option of actively participating in the drama or following along with the detective as he or she investigates the clues. Just before the culprit is revealed, allow the audience to vote and award prizes to those who guess correctly.
Auction One-on-One Expert Advice
Have some local celebrities, athletes or professionals that support your cause? Partner with them to provide one-on-one Q&As, training sessions or other mentoring sessions that you auction off during your fundraiser with the proceeds going to benefit your NFP's mission.
50/50 Raffle
Charge an entry fee and split the proceeds between the winner of the raffle and your charity or association.
Casino or Poker Night
Games of chance are always fun. Check with your local zoning laws first and if it's allowed, consider hosting an evening of fun and games with the proceeds going to your nonprofit.
Plant Sales
Instead of magazine and candy sales, why not help your local supporters with a green thumb by selling fruit trees or heirloom varieties of their favourite fruit and vegetable plants?
Make Your Fundraiser Sparkle with Intent Jewellery
One of the latest trends in jewellery now is defining your intent word for the year and embossing it on a charm that you wear on a bracelet or necklace chain. Allow your supporters to define their own intent word, or, choose one that relates to your NFP's mission statement or is used in your logo to help your NFP stay top of mind with your supporters!