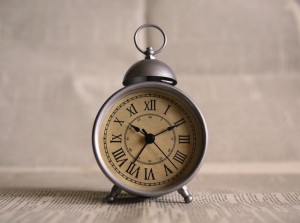 Whether we are at home, or in the workplace, most of us have too much to do these days, and not enough time. Try some of these time management tips to lighten your workload and organise your day so that you get more accomplished, and, feel less stressed!
Get an Early Start
Procrastination is one bad habit that's hard to break. It's an absolute must, however, if you want to reduce your stress and make sure that you have the time that you need to complete tasks on time! Arrange your schedule so that you have enough time to turn in early and get a good night's sleep before the start of your work day. Start your workdays early.
Don't wait until the last minute to complete important projects such as your nonprofit's budget and financial reports. Rather than beginning the day before something is due, start preparing a few weeks in advance. The earlier you start preparing for crucial events, the more time you will have to adjust when you find mistakes or when things go wrong – and, remember the adage, if something can go wrong, it will!
Use an online planner that sends text alerts and other reminders to help you keep up with your schedule and to reduce the likelihood that you will forget an appointment or deadline.
Prioritise Your To-Do List
To manage your time so that you get more work done each day, it's imperative that you focus on your most critical tasks first. Create a to-do list for each day, and list each job that you need to accomplish, starting with projects that have the shortest deadlines and that are the most important.
While it's necessary to list each item that you plan to accomplish each day, it's also wise to pace yourself, and make your workloads, and list, realistic. Stick with lists of five or ten items, and consider delegating less important tasks, or moving them to days that slower and less hectic.
Automate Your Processes
Manually entering transactions and other data is very tedious and time-consuming. Not to mention, b-o-r-i-n-g! Break up the monotony and save time by automating as many of your bookkeeping and record keeping processes as you can.
Automated accounting systems like Admin Bandit take just a few minutes to set up. Once you enter your accounts, the software can begin automatically entering, tracking and updating your nonprofit's financial information for you, freeing up time so that you can work on other tasks!
Avoid Distractions and Time Wasters
Set boundaries on your time to help you avoid distractions. For example, rather than reading and replying to each email as its sent through the day, schedule set times to answer email, as well as phone calls, so that you can devote your full attention to each task to reduce the chance of errors and complete the work faster.
Take Strategic Breaks to Recharge Throughout the Day
Even on your busiest day, you should include time to take periodic breaks. Schedule your breaks strategically so that you have time to step away from your work and recharge your energy throughout each day. This prevents muscle strain, reduces tension and stress, and improves your concentration and willpower so that you can focus and work more efficiently throughout the entire day, and not just at the start.