The features of Admin Bandit are designed specifically to make the role of volunteer treasurer easy and enjoyable. The Treasurer's Report is the cornerstone, setting out the information you need to present to your committee in a clear and concise way. It is even branded for your organisation if you've uploaded a logo.

At the press of a button you report on the money in the bank, receipts and expenditure, equipment you've purchased, success of events, petty cash, invoices sent out remaining unpaid, member numbers and fees paid, payments to be ratified by the committee.


You can also produce a range of other reports to suit your needs including detailed Event and Equipment reports, End of Year Reports for the auditor, Member Details reports and Member Fee Reports to keep an eye on who has paid what. All designed to make running your club or organisation easier.

Treasurer's Report
At the press of a button you will be ready for your meeting, with everything summarised for you to present to your committee. No rummaging around your paperwork to find the important information to enable the committee to make good decisions.


With Admin Bandit, being a treasurer is not a burden because the Treasurer's Report does it all for you, (once you enter your information).
Professional presentation for you and your organisation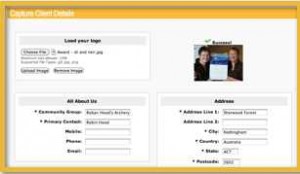 Customise Admin Bandit to match your organisation and present a professional image to the committee and the world:

import your own logo to appear on all reports, receipts, invoices and member notices.
customise terms to match your activities. eg. Members to Players, Groups to Teams.
consistent brand across all correspondence and reports generated for your club or society.
consistent clear reports give you confidence in the job you do as a treasurer.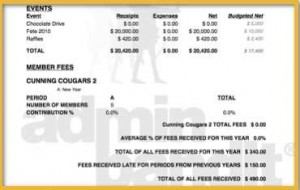 Attract more members to your association
In our busy, competitive world, give your organisation the edge by having a good handle on the finances and presenting clear, consistent reports. A well run organisation is attractive to people when they are deciding which association or club they will commit to their time and resources to assist.

A good handle on what membership fees have been paid or understanding the effectiveness of events can make the difference to the organisations sustainability and how it presents to potential members.




Full Feature List
Unlimited Bank Accounts
Multiple Logins
Transaction List
Receipts
Fee Receipts
Payments
Deposits
Invoices Out
Export Transactions
Produce Receipts
Members
Customisable Groups
Member Notices
Import Members
Export Members
Events Tracking
Reconcile to Bank Statement
Import Logo
Customise Terms and Categories
Budget Tool
GST tracking with Fund Raising Separate
Treasurer's Report
Transaction Report
Invoices Out Detailed and Summary Reports
Category Detailed and Summary Reports
Budget Report
Quarterly Business Activity Statement (BAS) Report
Events Detailed and Summary Reports
Equipment Report
Member Details & Fees Reports
Groups Report
End of Year Reports